- Rakkety Tam
- The Ribbajack & Other Curious Yarns
- A Divvil of a Lad
- Mossflower Collector's Edition

- The Tribes of Redwall: Mice
- The Tribes of Redwall: Hares
- The Tribes of Redwall: Shrews

- Redwall Sculptures
- Redwall Animation
- The Redwall Readers Club

- The Long Patrol
- RWTV: Redwall on TV
---
-The Redwall Newsline is a Redwall Top 100 Retiree, after over a year at #1-

10 vote average
15 vote average high
2079 outgoing votes
3818 votes overall (TOP 100 HIGH)
The Tale of Urso Brunov

Written by Brian Jacques
Illustrated by Alexi Natchev



Books-A-Million recently posted a detailed summary for The Tale of Urso Brunov.
This tall tale from Redwall creator Brian Jacques features a brand new hero: Urso Brunov, the Little Father of All Bears. The strongest, wisest, bravest bear in the world, he is also the smallest, no bigger than the size of your thumb. Other animals of the forest stand in awe of him--except one: a mustached monster who captures four of Urso's bears and puts them in his zoo, but who learns all too soon that the Little Father is truly a force to be reckoned with. On his way to rescue the lost bears, Urso Brunov matches wits with a tribe of boars, teaches manners to a billygoat, skims across the Deep River on a wooden flute, and finally confronts the Lord of All Sands. He'll get those bears back, never fear--believe him, for he is Urso Brunov!
---
The Tale of Urso Brunov is a picture book by Brian about a bear by the name of "Urso Brunov" ("Urso" being derived from the Latin word for bear, "Ursa").


---
Despite the Amazon.com listing, it appears that Linda Goldberg is not associated with the book and will not be handling the art chores.

Illustrating the book is Alexi Natchev, a professor at the Savannah College of Arts and Designs. Their website, "The Campus Chronicle", featured a report from March 29th, 2002 which included the blurb:
"Illustration professor Alexi Natchev is working on a 48-page picture book written by renowned British writer Brian Jacques."

This also tells us that the book is 48 pages (rather short for one of Brian's picture books).


---
To find out more about Alexi Natchev, I suggest visiting this site as it contains samples of his work, a biography, and photos of him.


---
To summarize, The Tale of Urso Brunov is a 48-page picture book about a bear named "Urso Brunov", written by Brian Jacques and illustrated by Alexi Natchev.


---
The Tale of Urso Brunov has been released.
Cover Art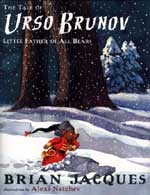 Art by Alexi Natchev
---
Author
- Brian Jacques
Illustrator
- Alexi Natchev
Release Date
- Released
Page Count
- 48
ISBN
- 0399237623,
Placement
- N/A
---