- Rakkety Tam
- The Ribbajack & Other Curious Yarns
- A Divvil of a Lad
- Mossflower Collector's Edition

- The Tribes of Redwall: Mice
- The Tribes of Redwall: Hares
- The Tribes of Redwall: Shrews

- Redwall Sculptures
- Redwall Animation
- The Redwall Readers Club

- The Long Patrol
- RWTV: Redwall on TV
---
-The Redwall Newsline is a Redwall Top 100 Retiree, after over a year at #1-

10 vote average
15 vote average high
2079 outgoing votes
3818 votes overall (TOP 100 HIGH)
Mossflower Collector's Edition

Written by Brian Jacques
Illustrated by David Elliot



The second book of the Redwall Series, Mossflower, is being reissued with new illustrations provided by David Elliot.

Specifically, Elliot will be providing six full-page illustrations for the book, as well as a new map. It's unknown whether these illustrations will be black & white or color plates (as in the Redwall 10th Anniversary Edition), but color plates seem likely.


---
The publisher has provided the following description of the product:
Mossflower, prequel to Redwall, is widely acknowledged by fans as one of the most memorable volumes of the bestselling Redwall series. It is now available in a special format, with six all-new, full-page illustrations and a brand-new map by David Elliot (illustrator of Triss and The Angel's Command, and winner of the 2003 New Zealand Post Children's Book Award). Fans will be eager to add it to their collections, and those new to the Redwall series will want to pick it up to find out how the grand epic got its start.
---
The Collector's Edition will be 432 pages long (one page longer than the original hardcover edition), but will retain the original Troy Howell cover art (albeit in a framed fashion).
---
Mossflower Collector's Edition will hit US shelves on February 23rd, 2004. It's unknown whether or not a UK release will follow, but it seems likely.
Cover Art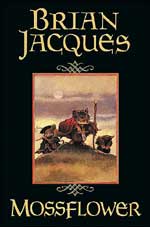 Art by Troy Howell
---
Author
- Brian Jacques
Illustrator
- David Elliot
Release Date
- 2/23/04*
Page Count
- 432
ISBN
- 0399240314
Placement
- Between Martin the Warrior and The Legend of Luke
---