- Rakkety Tam
- The Ribbajack & Other Curious Yarns
- A Divvil of a Lad
- Mossflower Collector's Edition

- The Tribes of Redwall: Mice
- The Tribes of Redwall: Hares
- The Tribes of Redwall: Shrews

- Redwall Sculptures
- Redwall Animation
- The Redwall Readers Club

- The Long Patrol
- RWTV: Redwall on TV
---
-The Redwall Newsline is a Redwall Top 100 Retiree, after over a year at #1-

10 vote average
15 vote average high
2079 outgoing votes
3818 votes overall (TOP 100 HIGH)
The Ribbajack & Other Curious Yarns

Written by Brian Jacques
Illustrated by (Unknown)



To read The Long Patrol's review of The Ribbajack, click here.


---
In an article on BookPage, Brian revealed he was working on a "collection of ghost stories" entitled Liver Jack and Other Curious Laughs. That book has since become The Ribbajack & Other Curious Yarns, a book that looks to follow in the footsteps of Brian's 1991 book, Seven Strange and Ghostly Tales.


---
The following description of The Ribbajack was posted on Redwall.org:

What if revenge were a monster of your own creation? If all you needed to summon this monster was enough hatred and enough imagination? Which of you would really be the monster? One boy is about to find out...

From vengeance monsters to haunted schools to the threat of a modern-day Medusa, New York Times best-selling author Brian Jacques (Loamhedge; The AngelŐs Command) spins six all-new tales of horror and suspense. Read on, but be careful of what brews in your heart. You may just find yourself the next victim of the Ribbajack...
---
The Ribbajack will be published in paperback by Philomel and will carry the pricetag of $16.99. Given the price, it seems likely that the book will be a trade-paperback (roughly the same size as a hardcover, only paperback).


---
The Ribbajack & Other Curious Yarns will be released in May 2004.
Cover Art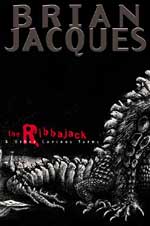 Art by Johann Wessels
---
Author
- Brian Jacques
Illustrator
- Unknown
Release Date
- 5/04*
Page Count
- 176
ISBN
- 0399242201,
Placement
- N/A
---